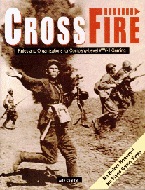 Crossfire is finally back in print and readily available – you can find it at these stockists:

We've had many enquiries from gamers wanting to source a copy of Crossfire and/or Hit The Dirt. Both these publications are now out of print, but limited numbers are still available from various retailers, along with many of Arty Conliffe's other rules. The following is a list of where all of these are or may be available and the approximate availability (quantities) as at the date of the last update.
This list was updated on 24 June 2011.